Ranee's Velo Restaurant - Bangkok, Thailand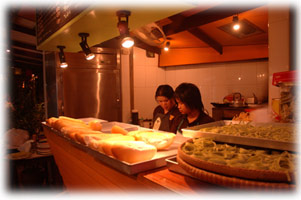 Thai Food - International Food - Bakery - Italian Food - Pizza
Ranee's Restaurant near Khaosan Road, Bangkok has now reopened in a new location, 00m from the original restaurant in Trokmayom. Ranee's provides one of the best eating experiences you will find anywhere in Thailand. Tucked away in a small soi (alley) 2 minutes walk from Khaosan Road this semi open air restaurant is a favourite with local Thai's, expats and frequent visitors.
This family run restaurant is operated by owner / managers Ranee & Roel. They have made the cooking of Thai & International food into a real art with many unique tasting dishes including their latest addition of homemade fresh pasta & pizzas. Whichever dish you choose you will immediately taste the difference of fresh ingredients and the unique style of a talented chef who truly loves to cook.
Homemade bread
Homemade pizza
Homemade fresh pasta
Homemade Thai Food
Fresh Coffee
For a dining experience that you are sure to repeat whenever you are in Bangkok!
Beware of imitations! Check carefully for the name as other nearby restaurants often try to copy Ranee's new food creations to take advantage of her deserved reputation. The food may sound similar but the taste is yet to be equalled.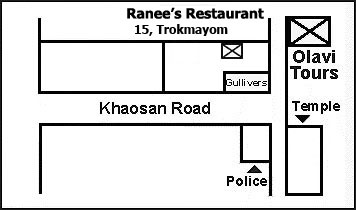 Ranee's Restaurant,
15, Trokmayom,
Near Khaosan Road,
Bangkok 10200,
Thailand
Tel. 66-(0)2-281-8975